For more than four decades, the firm has served as an enabling partner, supporting financial advisors in their goals of preserving and growing their clients' wealth.
BEDROCK INVESTMENT APPROACH
360 Wealth Management is built upon these fundamental principles: sensitivity to expenses and taxes, proactive asset management, a transparent fee structure, and a measured approach to risk.
"At 360 Wealth Management, it is our goal to provide wealth management that encompasses the 360 degrees of your life and gives you the freedom to live it."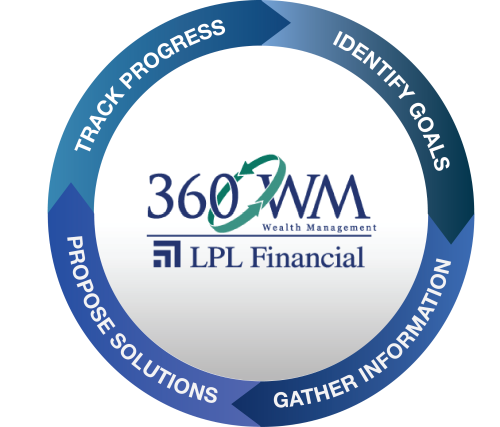 At 360 Wealth Management, we believe in being different. We look at each client's needs from a fresh perspective and take equal measure of both the challenges and opportunities our clients face. We combine the strength of financial planning with a disciplined approach to wealth management. We're independent advisors so our recommendations are based on what is most suitable for our clients and not by proprietary products or biases.
Whether you are growing your own business or non-profit, looking ahead to find ways to safeguard your family's future, developing a detailed retirement income strategy, or crafting a family legacy- our firm has the accumulated knowledge to help you reach your goals. We look forward to helping you make the most of your wealth and preparing you for the unexpected with our full circle approach.
The Value of Independence?
CONTACT 360 WEALTH MANAGEMENT
Address:
15110 Dallas Parkway
Suite 500
Dallas, TX 75248
Main Phone: 972-421-1360
Main Fax: 972-421-1390
Securities offered through LPL Financial, Member FINRA/SIPC. Investment Advice offered through 360 Wealth Management, a dba of Advisor Resource Council, a registered investment advisor. 360 Wealth Management and Advisor Resource Council are separate entities from LPL Financial.
The LPL registered representatives of 360 Wealth Management may only discuss securities or transact business with persons who are residents of AK, AL, AR, AZ, CA, CO, CT, DC, FL, GA, HI, ID, IL, IN, KS, LA, MA, MD, MN, MO, MS, NC, NE, NH, NM, NV, NY, OK, OR, PA, RI, SC, TN, TX, UT, VA, WA.
No information provided on this site is intended to constitute an offer to sell or a solicitation of an offer to buy shares of any security, nor shall any security be offered or sold to any person, in any jurisdiction in which such offer, solicitation, purchase or sale would be unlawful under securities laws of such jurisdiction.