[/db_pb_fullwidth_slider]
What is 360 Wealth Management
"At 360 Wealth Management, it is our goal to provide wealth management that encompasses the 360 degrees of your life and gives you the freedom to live it."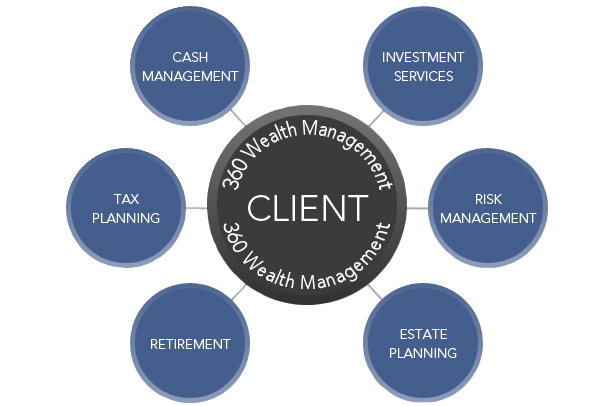 Click each to reveal the services that we provide for each category.
Cash Management
Multiple-tier cash reserve strategies.
Tax Planning
Tax-efficient investment strategies
Roth conversion analysis
Tax minimization strategies
Coordination with CPA
Retirement
Qualified & non-qualified investment strategies
Distribution planning
Retirement projections, including "what if" scenario planning
Investment Services
Tax-efficient investment allocation
Market neutral investments
Concentrated stock diversification
Alternative investment strategies
Risk Management
Life insurance planning
Long term care and disability analysis
Property & casualty review
Asset protection strategies
Estate Planning
Estate tax minimization strategies
Wills & trusts reviews
Coordination with your estate attorney
Legacy planning
Charitable gifting strategies
Investing involves risk including loss of principal. No strategy assures success or protects against loss. 360 Wealth Management and LPL Financial do not provide tax or legal advice or services. Please consult your tax or legal advisor regarding your specific situation.
CONTACT 360 WEALTH MANAGEMENT
Address:
15110 Dallas Parkway
Suite 500
Dallas, TX 75248
Main Phone: 972-421-1360
Main Fax: 972-421-1390
Securities offered through LPL Financial, Member FINRA/SIPC. Investment Advice offered through 360 Wealth Management, a dba of Advisor Resource Council, a registered investment advisor. 360 Wealth Management and Advisor Resource Council are separate entities from LPL Financial.
The LPL registered representatives of 360 Wealth Management may only discuss securities or transact business with persons who are residents of AK, AL, AR, AZ, CA, CO, CT, DC, FL, GA, HI, ID, IL, IN, KS, LA, MA, MD, MN, MO, MS, NC, NE, NH, NM, NV, NY, OK, OR, PA, RI, SC, TN, TX, UT, VA, WA.
No information provided on this site is intended to constitute an offer to sell or a solicitation of an offer to buy shares of any security, nor shall any security be offered or sold to any person, in any jurisdiction in which such offer, solicitation, purchase or sale would be unlawful under securities laws of such jurisdiction.